It's not easy to record bass, because it likes to violate the laws of physics – but these tips can help
Bass is one of the most difficult instruments to record well, because its range lies exactly where electro-mechanical transducers like speakers and cartridges are operating at their worst-case limits. For example, the lowest bass notes can't even be heard on some speakers; to adequately reproduce low bass notes requires large speakers, enough amplification to move those speakers back and forth, and elaborate cabinet baffling schemes that prevent cancellation of those elusive bass frequencies.
As a result, getting a good recorded bass sound—one that will punch through on an AM transistor radio, but also sound great on a top quality stereo system—is quite difficult. However, there are some tricks you can use to make sure that you get yourself heard properly.
TRIM UP YOUR BASS FOR FLAT RESPONSE
Play into your DAW, and note how the meter responds to your bass; it's very possible that the low E will be the one that booms, while the higher strings are more laid back. You can trim up the response by altering the angle of the pickups in relationship to the strings, and/or adjusting the pole pieces if your pickup has adjustable pole pieces. Sometimes even these adjustments aren't enough, though; in this case, try substituting a lighter gauge string for the string that's booming.
PLAY WITH AS CONSISTENT A LEVEL AS POSSIBLE
Again, a meter can help monitor what's going on with respect to level. The more consistent your playing, the easier it will be to mix. If your signal level varies a lot, you'll probably end up adding a lot of limiting or compression. While both these effects can be extremely useful for turning a good sound into a superb sound, adding too much of either—which may be required if you don't play consistently—can sound unnatural.
EXPRESS DYNAMICS IN WAYS OTHER THAN LEVEL CHANGES
There's more to dynamics than level, and it's possible to create a sense of dynamics while retaining a fairly consistent level. For example, rather than picking harder in certain passages, try picking closer to the bridge instead. This will give a sharper, more biting sound that cuts through a mix better.
DON'T BE AFRAID TO USE EFFECTS, BUT TAILOR THEM FOR BASS
Effects designed for guitar are generally not "tuned" to the bass range, which can produce a thin sound when you try to use them with bass. Many plug-ins allow for parallel effects, so one parallel path can be the full, dry bass sound, while the other overlays the effect on top (Fig. 1).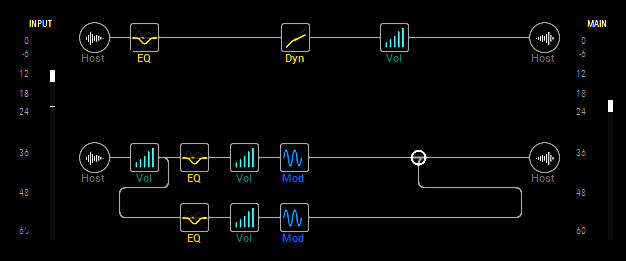 If you're recording an amp, the easiest solution is to use a two-channel amp (or two-channel mixer) as part of your setup. Run a Y cord out of your bass, and split it so that one signal goes directly into one amp channel, while the other signal goes through the effect first before going into the remaining channel. By varying the blend of the two channels, you can mix in the essential bass "bottom" along with whatever effect you've added.
TEST YOUR BASS SOUND IN THE REAL WORLD
Any bass is going to sound great on studio monitors that cost thousands of dollars; unfortunately, most people don't have equivalent speakers. So, it helps to have a frame of reference to hear what your bass is going to sound like over "real world" systems, like car radios and portable cassette recorders. You may need to make some modifications to either your part or your sound in order to accommodate as wide a range of systems as possible; for example, adding a bit of treble may make your bass part more intelligible on small speakers, or it might be necessary to transpose certain strategic notes up an octave. I find Audified's MixChecker plug-in (Fig. 2), which you insert in the master bus while monitoring, helpful in emulating the sonic violence various types of playback systems can do to my music.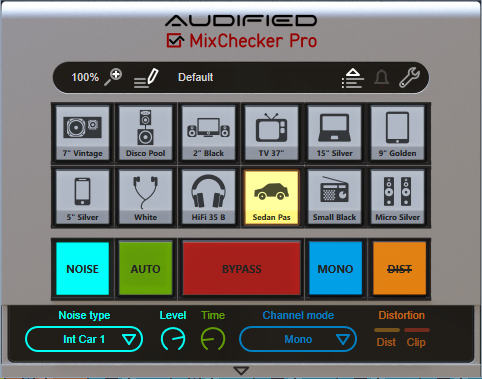 MIX A DIRECT BASS LINE INTO YOUR AUDIO INTERFACE ALONG WITH YOUR AMPLIFIED SOUND
As mentioned earlier, bass amps don't always have the most even frequency response in the world. On the other hand, audio interfaces have excellent bass response. So, if you plug your bass directly into an audio interface's high-impedance instrument input, you'll be bypassing the noise and frequency response anomalies your amp may have. Of course, you may like the sound of those anomalies, and a find a direct sound too clean; so by miking your amp and recording that sound as well, you can achieve a balance that's an ideal combination of the two. Just remember that the miked sound will have a slight delay compared to the direct sound—1 ms for each foot of distance between the mic and the speaker. So, you may need to delay the direct sound slightly to avoid frequency response cancellations. Of course, using a bass amp sim in parallel with the direct sound is another potential solution.
USE VARIATIONS ON YOUR BASIC SOUND WHERE APPROPRIATE
I've found that synthesizer bass gives some excellent effects that you just can't get with a normal bass, and has the additional benefit of a predictable and repeatable output level. Pedal bass is also great when you need a thundering, sustaining bass sound. For simple parts, it's really not too hard to play these instruments, and double up on your usual bass sound. Any time invested in learning these instruments can come in very handy when you don't want to overdo one basic sound.
DON'T FORGET ABOUT PUNCHING IN
Comping is such a common recording option these days that some people tend to overlook the virtues of punching, so let's look at two examples of using punch-in to advantage. In one, after laying down a bass track throughout an entire song, I decided it needed a bit more oomph in the chorus. So, I set up a bass sound using a bit of doubling for a thicker sound, and punched this sound in only during the chorus. By punching in and out on the beat, the change was not at all abrupt. Another example involved a song where several melodic and percussive parts were put on as overdubs after the bass part. The character of the song changed sufficiently during the overdub process so that during the bridge, when there was a lot of percussive activity, the bass part was too complex. It was an easy matter to set up a sustaining, thick bass sound on a keyboard synthesizer, and just punch it in during that one spot on the bridge. The result was a bass part that went much better with the music. Punching in can not only save a track, but add variety.
LEARN YOUR MONITORS IF YOU HAVE A HOME STUDIO
Chances are your home studio is going to have less than perfect monitors; if their bass response is deficient, you may be tempted to boost the bass during mixdown to compensate, only to find that upon playing the piece back on a system with good bass response, the bass is overpowering. However, there's a great solution for creating a flatter response with speakers, headphones, or both—check out my review of the Sonarworks Reference 4. It's really helped me a lot with mixing, both in terms of sound quality and saving time.
As mentioned in the beginning, it's difficult to get a good bass sound. But once you understand how these difficulties come about, and figure out steps you can take to overcome these difficulties, the process of recording bass becomes much easier. Use the above tips, good listening, and common sense; be critical of your sound, and don't quit until you're happy with what you're hearing. Most people are their own toughest critics, so if you can please yourself, consider the job done.
RELATED ARTICLES
How to Use Rack-Mount Compressors for Guitar and Bass
How to Obtain Transparent Compression
Hard Disk Editing for the Ultimate Bass Groove