It's easy to stream your Windows audio via Bluetooth
Sometimes I'll want to listen to what's happening on a DAW without being anchored to a monitoring position—like listening to a song loop in the background as I move around the house to hear if anything annoys me. Fortunately, with Windows you can stream your computer's audio over Bluetooth. To do so, you need to use Windows drivers, not ASIO. MME is the fail-safe option, but I've had good luck with WASAPI as well. Here's what you need to do.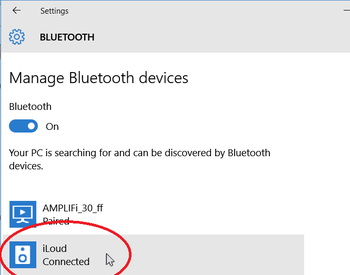 Pair your Bluetooth device with your laptop or computer's Bluetooth. Your device will provide instructions on how to do this, but it generally involves having the two Bluetooth-friendly devices turned on, in close proximity to each other, and pushing a pairing button.
On your computer, choose Start > Settings > Devices, then click on the Bluetooth category.
Verify that Bluetooth is turned on, and make sure that your Bluetooth device is shown as Connected, not just Paired.
In the Windows search box, type Sound and click on Sound Control Panel.
Your Bluetooth device should appear in the list of potential playback devices. Click on it, and choose Set Default to make the Bluetooth device your default playback device.
In your DAW, choose the appropriate Windows protocol. For example, in Cakewalk by BandLab, choose MME or WASAPI as the driver mode under Preferences > Audio > Playback and Recording. Note that you will not be able to obtain latencies comparable to ASIO, so if there's distortion, aliasing, etc., try increasing the latency.
And now, you can stream audio to your Bluetooth audio portable speaker—enjoy!
Photo courtesy IK Multimedia