How suite it is: IK folds virtually all their instruments and processors into a bundle
Sure, the world has plenty of music software suites…but Total Studio 2 MAX (TS2 MAX) stakes its own claim by taking a different approach. IK's product design philosophy is about creating programs that complement each other—from laying down tracks with SampleTank when songwriting and recording, adding classic orchestral sounds with Miroslav Philharmonik 2, loading up Syntronik for electronic instruments, embellishing a mix with effects and amp sims, and finally, mastering the music with a suite of mastering effects (and now, the Lurssen Mastering Console). Just as today's recording programs provide your studio, IK is all about providing your backline and effects rack.
Yet it's always been somewhat expensive to take advantage of the full line of integrated products—hence Total Studio 2 MAX, which combines these programs into a single package at a far lower cost than buying them separately. Those who are familiar with only one part of IK's world—the AmpliTube amp sim, the T-RackS effects, Miroslav Philharmonik—now have an economical way to experience how these all fit together.
So exactly how do they fit together? I'm a long-time user of IK software in my own musical projects, but never really put all the pieces together. So when I was asked if I could review Total Studio 2 MAX, I definitely wanted to find out what happens when you work with these programs as a suite of products instead of just picking and choosing specific programs for specific tasks. Here's what I found.
INSTALLATION
When using individual programs, I needed to authorize each one. While not horrible, the idea of authorizing all 94 products in Total Studio 2 MAX—as well as downloading 179 GB of data using my horrifyingly slow AT&T internet connection—was daunting. Fortunately, I needn't have worried. There's a single authorization code for the entire TS2 MAX package; the code is stored online and accessed through authorization management software. Once you've entered the authorization code, you don't have to worry about losing it.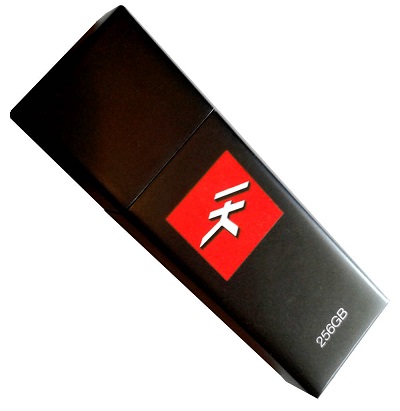 And while you can download the data if you have fast internet and are impatient to get your hands on the software, you can order TS2 MAX on a USB 3.0 thumb drive (or purchase at music stores) for the same price as the download-only version. Installation from the thumb drive takes only minutes—and makes it easier to get back in action with TS2 MAX if there's a hard drive failure. Given a choice between download or USB 3.0, I'd take the thumb drive.
TRACKING AND INSTRUMENTS
TS2 MAX mirrors the workflow involved in computer-based music projects: tracking, editing, mixing, mastering. It also allows focusing on specific workflows. For tracking, although there are four main instruments, they are actually "hosts" for additional instruments and libraries.
SampleTank 3 is a versatile instrument with a 17-year history and an extensive sample library designed to accommodate multiple musical styles. When doing seminars, I've recommended SampleTank as a songwriting tool for well over a decade, because it's easy to create presets with up to 16 instruments. For example if you write rock music, your preset could have drums, organ, piano, guitars, etc. For hip-hop, load libraries from the Beats series, with audio loops and MIDI patterns—even use iRig pads for 4 x 4 matrix pad playing and programming. And because Miroslav Philharmonik 2 and Syntronik are SampleTank-compatible, adding anything from string sections to analog synth bass can become part of the SampleTank workflow.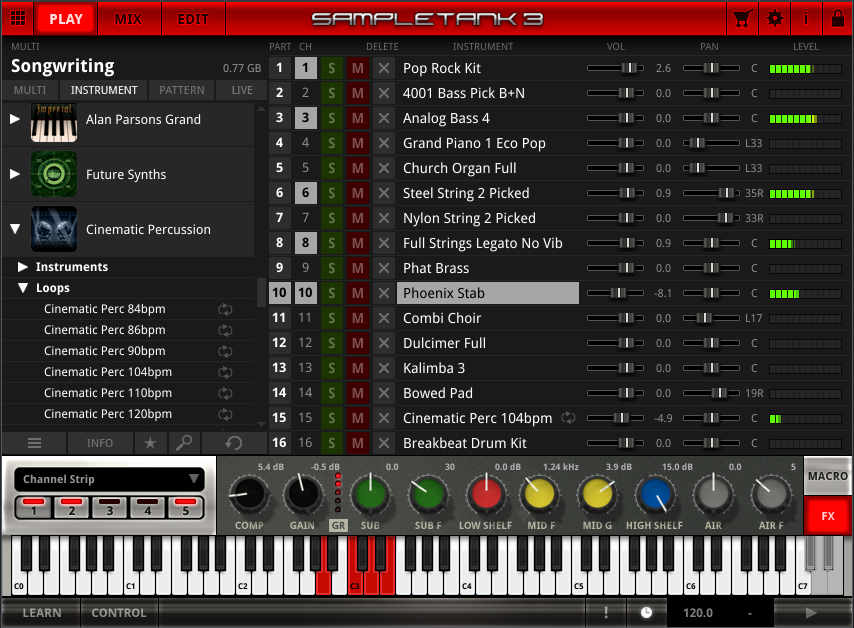 SampleTank 3 is designed to be the core of your creative process but in stand-alone mode, it's a wonderful tool for backing tracks—either for live use to accompany (for example) a singer-songwriter on guitar, as well as for studio work and practicing. Also noteworthy for live use: SampleTank has a complete mixing section where you can insert effects and set levels among the 16 instruments. With SampleTank 3, a keyboard controller, and a laptop, your carry-on baggage can replicate a keyboard rig that used to have a hard time fitting in a truck.
Miroslav Philharmonik 2 is optimized for orchestral productions, whether for movie soundtracks or adding string and brass sections to pop songs. Although the samples are compatible with SampleTank 3, the reason for a separate instrument is that orchestral productions need features that more general productions don't. For example, the convolution reverb in Miroslav Philharmonik 2 allows placing instruments in any of four acoustic spaces—which might not be relevant for doing hip-hop, rock, country, and similar productions in SampleTank.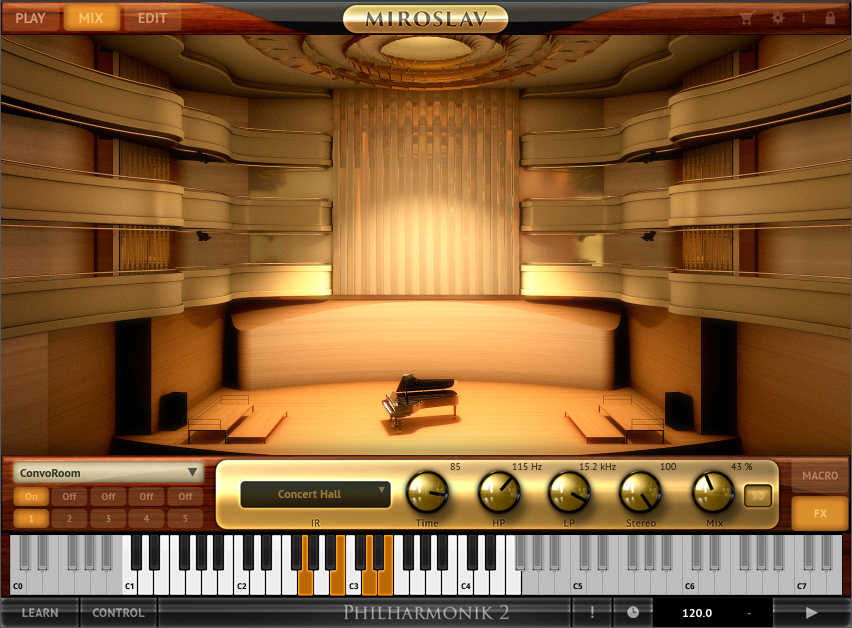 What's more, macros that enhance expressiveness are an essential part of Miroslav Philharmonik 2. With MIDI learn, your natural, human motions translate easily into sound.
Syntronik is essentially a vintage synthesizer museum (but one where the integrated circuits all work, no light bulb is burned out, and you never need contact cleaner). For electronic-based productions, Syntronik collects the classic sounds of 38 synths that have powered dance, EDM, electronica, and pop since the 60s.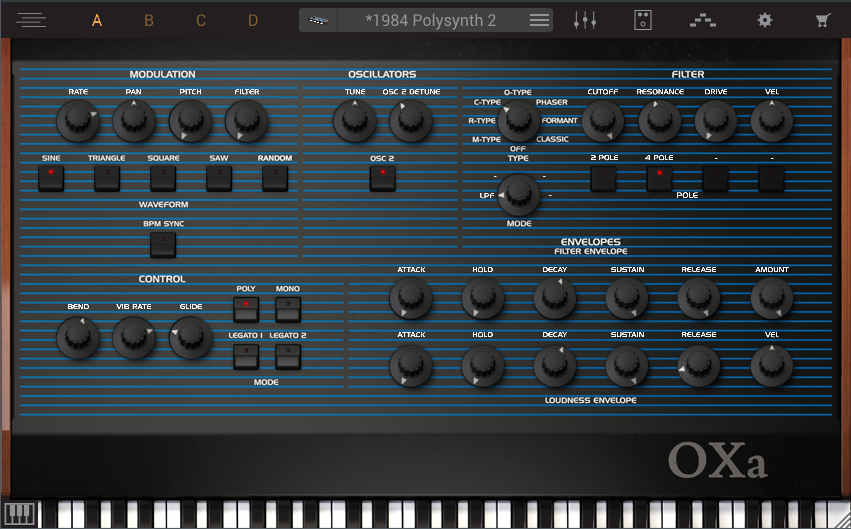 However, the ease of editing means that it's equally possible to create, save, and load your own custom sounds. When combined with the groove-oriented SampleTank libraries, the pair excel at hip-hop, dance, and other beats-oriented recording projects.
MODO Bass covers the low end. Although SampleTank has plenty of bass samples, and Syntronik covers bass synths, MODO Bass uses physical modeling to create the sound of the main electric basses that have graced hit records since the 1950s. Modeling also allows for parameters as detailed as the age of the strings, and whether they're roundwound or flatwound.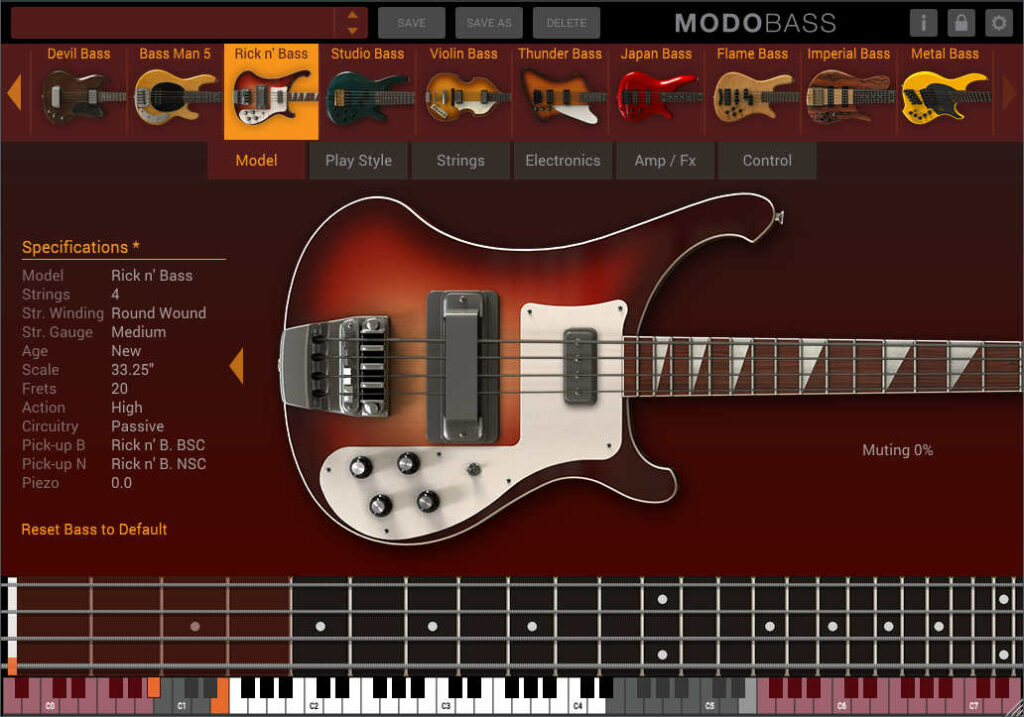 With bass being such a crucial part of contemporary music productions, MODO Bass gives keyboard players expressive, accurate bass models—but is also a great solution for guitar-to-MIDI and bass-to-MIDI converters. Now guitarists can play uncannily accurate bass parts using familiar guitar fingerings. (Public service announcement: Just don't play bass like a guitar…remember, it's part of the rhythm section.)
TRACKING WITH GUITAR
IK introduced the first native amp simulator in 2002, and AmpliTube 4 is the latest incarnation of their technology. Many consider AmpliTube 4's standout feature as its ability to emulate the smooth breakup from clean to distorted, instead of "switching" from one to the other. However, having used it since version 1.0 I've found it's a deeper processor than it appears. Parallel processing makes it very well-suited for bass, and allows stacked amp sounds for guitar. Its rack processors add the kind of polish that's usually done in the studio, and which in many cases is responsible what we associate with a particular guitar player's sound. The miking emulation is sufficiently realistic that you can actually learn how to mic physical amps by working with AmpliTube.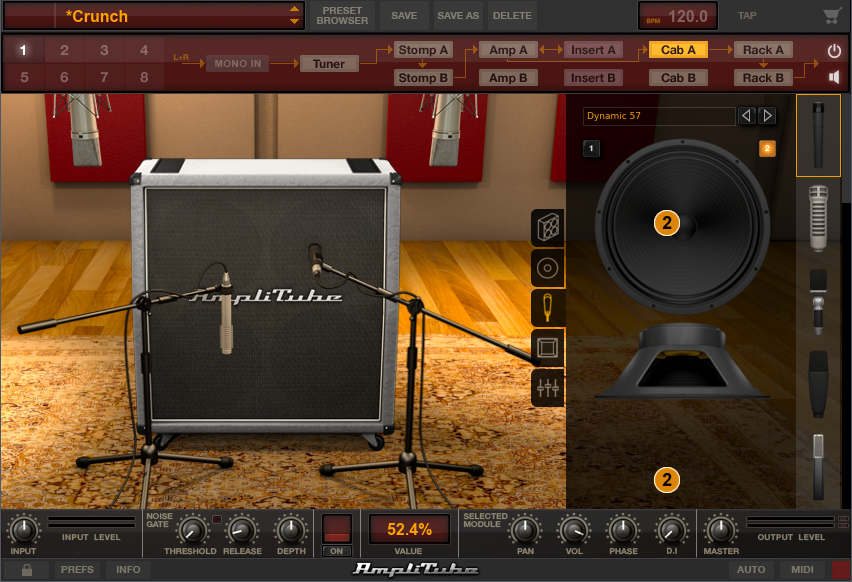 Also note that AmpliTube can have a role in mixing. In a way, it's like an instrument-specific channel strip. For example, you can add some of the subtle saturation effects associated with console emulation by turning off all the modules except for a clean amp's tube preamp, and instead of going through the effort of patching a stomp box into an audio interface because you can't get "that" sound any other way, use AmpliTube 4's stomp box effects.
MIXING
Proceeding with the typical project, after laying down your parts and editing, it's time to mix. Although there are 12 different EQs, none of them is gratuitous—each has a specific, recognized character, from the gentle curves of passive equalizers to the specific equalizers found in the two channel strips. Similarly, the 14 dynamics processor cover vintage tube compression, optical compression, vari-mu types, and the like. If you're a "right tool for the right job" type, this collection is welcome.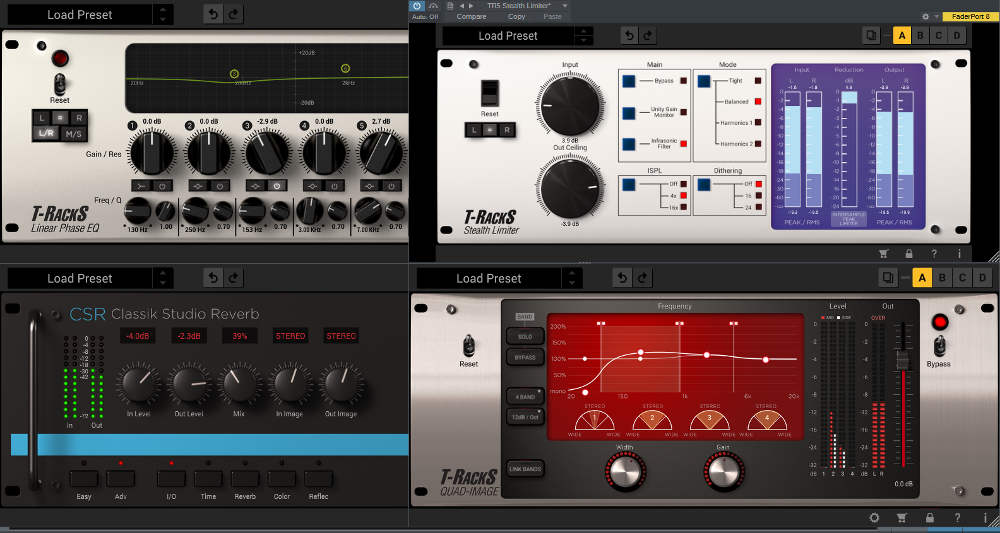 Other effects include IK's four CSR reverbs and vintage echo, harmonics processors, stereo imaging, mic modeling, and more. Granted, most DAWs these days include built-in effects, and because the field has become more competitive, they've raised the bar over the years. However, the variations provided by the T-RackS effects can add musical, useful colors to your mix that you rarely find with stock plug-ins.
MASTERING
You can create you own à la carte mastering chain from the included effects, like mastering limiters (transparent, multiband, brickwall), and the wide variety of EQs. You can also use the broadcast-ready metering suite to confirm visually what you hear with your ears, as well as perform reality checks to make sure you the audio is within acceptable dynamics and level ranges.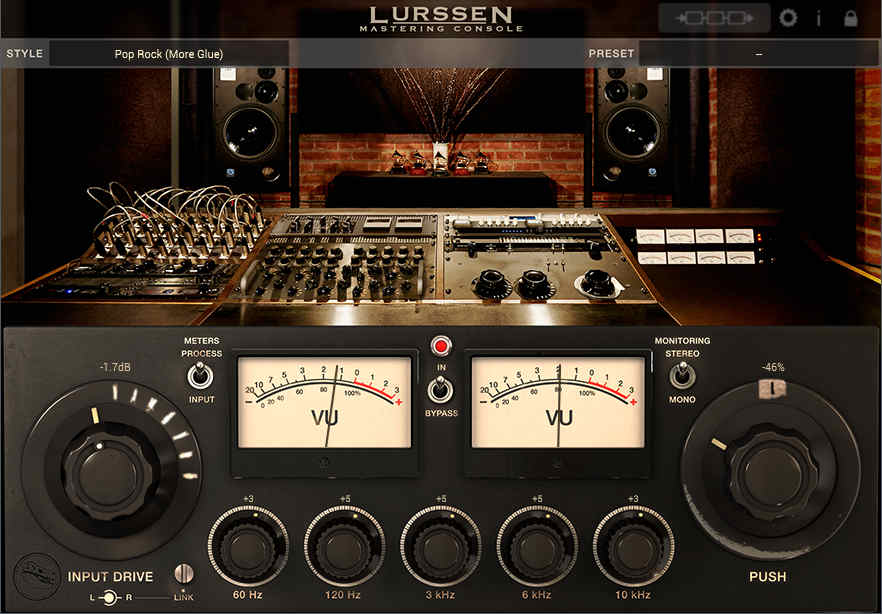 But the star of this show is the Lurssen Mastering Console, which emulates the mastering chain used by Lurssen Mastering Inc. in Los Angeles. This isn't a dumbed-down "squash it and add treble" mastering chain, but includes 40 mastering templates optimized for different styles of music. Those take care of the main elements, but additional controls adjust macros that work with the templates to allow customizing the sound. There are even automation options so you can live with your work for a while, and make additional tweaks while leaving the rest of what you've done alone. Just remember this works like a real mastering engineer—give it a mixed track without master bus processing so the mastering console can do its thing. I'm not a fan of automated mastering, but I have to say this was a head-turner.
I DON'T LIKE CLUTTER
For me, a major enemy of creativity is distractions. I've deleted all those free plug-ins that while quite cool, and important for those on a budget, don't add anything significant to what I already have. All the recording software I use (aside from Ableton Live) supports VST3, so the VST2 versions get installed to an Ableton-specific folder that's not included in the VST folder scans for other programs. All samples for all programs are on the same drive, not just so that I can back up everything in one pass, but because when I want to call up a sound I can always go to the same place, with the same folder locations. Simple—yet none of these simplifications limits my options.
TS2 MAX seems to subscribe to the same philosophy: make things simple, but don't sacrifice functionality. At this point I know SampleTank like the back of my hand, so being able to load sounds from Miroslav Philharmonik 2 (which I didn't have before) and Syntronik (which is a relatively recent program) have extended SampleTank's reach without my having to learn something new. And when I need to go "all in" on orchestras or electronics, it's time to open Miroslav or Syntronik—neither of which adds much of a learning curve.
Finally, the T-RackS effects strike me as the unsung heroes of the package. I'm not sure how many people associate IK Multimedia with effects—the average musician probably thinks of their other products—but they're an extremely useful addition, and some have no real equivalents. They'll be getting a lot of use in the future now that I know what they can do.
My focus is always on getting projects done, so I have a tendency to work with what I have. It takes time to learn new programs, and that's one reason why I've gotten so much mileage out of AmpliTube and SampleTank over the years. But that's going to change, because the time I've spent with Total Studio 2 MAX has shown me IK's software is about a lot more than just those two programs—so the entire package is going to get a lot of exercise in the future. Meanwhile, there's a bass part I need to record…