The original forum for musicians is now a part of MusicPlayer.com
Share your thoughts, take a stand, ask questions, have a laugh or two, and join the discussion at Craig Anderton's Sound, Studio, and Stage forum!
Sound, Studio, and Stage started as a microsite on America Online in January, 1995. The forum took off, and it became one of the most popular destinations on AOL's MusicSpace. Some of the samples also had huge numbers of downloads…which later became a problem.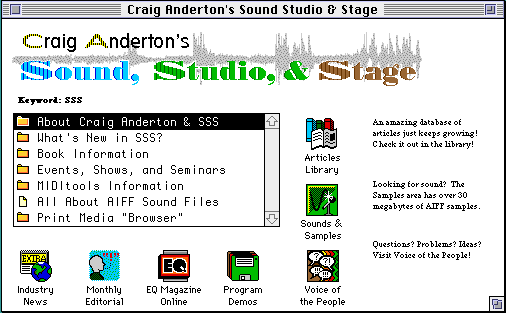 When AOL charged by the hour, they loved SSS. When AOL went to flat rate and the amount of downloading increased even more, in 1998 they decided the site needed to be either an e-commerce site, or leave the AOL ecosystem.
It left, and Lynn Fuston (now with Sweetwater) provided a temporary home for the forum until it resurfaced as part of MusicPlayer.com in 2000. From there, SSS survived various media company ownership changes but in 2005, with New Bay Media uninterested in growing the forums, SSS relocated to Harmony Central. Again, it survived various ownership changes.
When Dave Bryce resuscitated MusicPlayer.com (whose Keyboard Corner forum he had helped keep alive over the years) and regained control thanks to Future Publishing, who had acquired the forums in an acquisition, it seemed like a good time for SSS to relocate once more.
Please visit Craig Anderton's Sound, Studio, and Stage and join the discussion!