Compact, Pro-Level Mixing and Recording for Those on the Go
Mobile recording's popularity has been growing for a while, but is now accelerating with the increased interest in podcasts. Furthermore, due to the current situation involving the global pandemic, streaming is becoming more common than ever, with many people doing streaming with mobile devices like smartphones and tablets. What's more, programs like GarageBand offer decent multitrack recording in a mobile device—but actually getting some tracks of external audio into it can be a challenge.
Although smartphone cameras are nothing short of amazing these days, audio has lagged behind. Of course, you're not going to get Neumann mics and Sennheiser headphones in an iPhone, but high quality video needs to be complemented by high-quality audio. Although I've seen quite a few simple interface/mixers designed for podcasting and streaming with mobile devices, the options for a premium-quality, self-contained, "Swiss army knife" type of device for mobile applications are very limited.
But nature abhors a vacuum, and apparently, so do product categories because the MixerFace R4R is clearly designed for sophisticated mobile applications. Let's get one thing out of the way: it's not cheap. Then again, you get a lot in return. Think of MixerFace as a mixer, high-quality set of preamps, optional SD recorder, and USB interface. MixerFace supports iOS, Android, Mac, Linux, and Windows using USB 2.0, but is electrically compatible with USB 3.1 (USB-C connectors require a physical adapter).
MEET THE FAMILY
The MixerFace line is a family of products (all prices are current as of this writing): Studio ($199.99), Plus ($349.99), Pro ($479.99), and Premium ($549.99). Let's cover the differences first, and then we can get into the similarities—the models are basically the same, except for added features.
All models accommodate AC power via a USB adapter (not included), but the Plus model and above also include a rechargeable battery that lasts up to 8 hours, depending on how power-hungry your phantom-powered mics are. To that, the Pro version adds a micro SD recorder, and the Premium package adds an XY stereo mic pair. Note that you can charge/power via a USB charging port, while a second USB port handles audio. Nice.
DIGGING DEEPER
I've been familiar with CEntrance products for quite some time. Back when laptop D/A converters were execrable, the CEntrance DACPort let me enjoy audiophile-quality music when on the road, while the Micport Pro brought out the best in mics when recording to a laptop (and their late, great Axeport, since discontinued, provided a guitar interface—which of course no laptop has). I was always impressed by the sound, but also by the build quality. Years after their introduction, I still use them regularly.
Compared to my expectations, the MixerFace is both lighter (under 10 ounces) and more compact (4.75″ x 1.5″ x 2.75″—the ad copy says it's the size of a passport, but it's actually smaller). The build quality is clearly field-friendly—this is not something you dare not take out of the bedroom. It comes with a felt carry pouch, which protects it from scratches when being jostled around with other gear in a backpack. One of the more surprising aspects is how something that feels so substantial can also feel so portable.
Let's start with the audio I/O. Each of the two Neutrik mic/line/instrument combo jack inputs (Fig. 1) have Hi-Z and high-pass filter switches, gain controls with LEDs for peak and signal, and a switch that supplies phantom power to both mic inputs. The Hi-Z input is 1 Megohm…a welcome touch for guitar and bass players. A stereo minijack handles the Aux 3 and 4 line inputs, and each channel also has a monitor blend control (i.e., zero-latency monitoring) for the input and USB signal coming back from your mobile device to the MixerFace.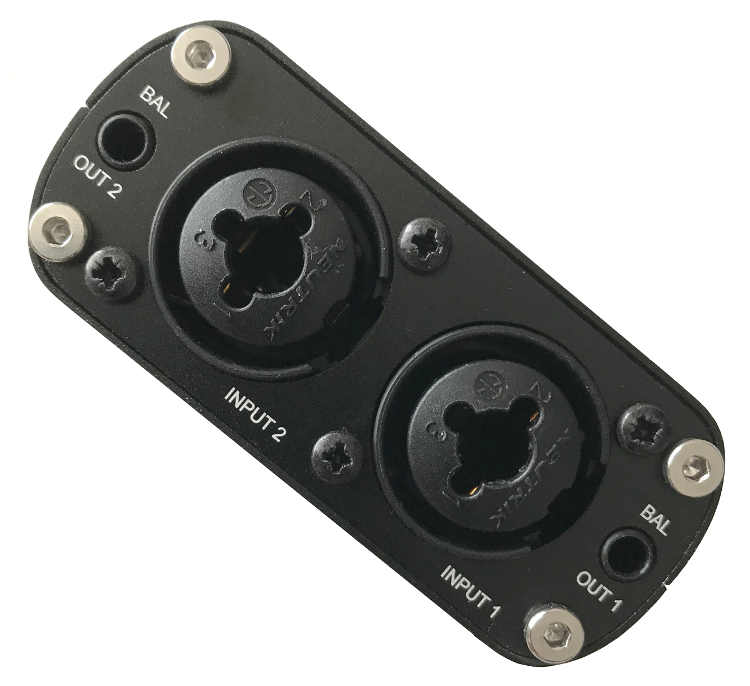 Two TRS minijacks handle the output to powered monitors. There's also a headphone/monitor output control, low/high line output-level switch, mono/stereo monitoring switch, and pre-monitor 1/8″ stereo line output. Figure 2 shows the controls opposite from the input jacks.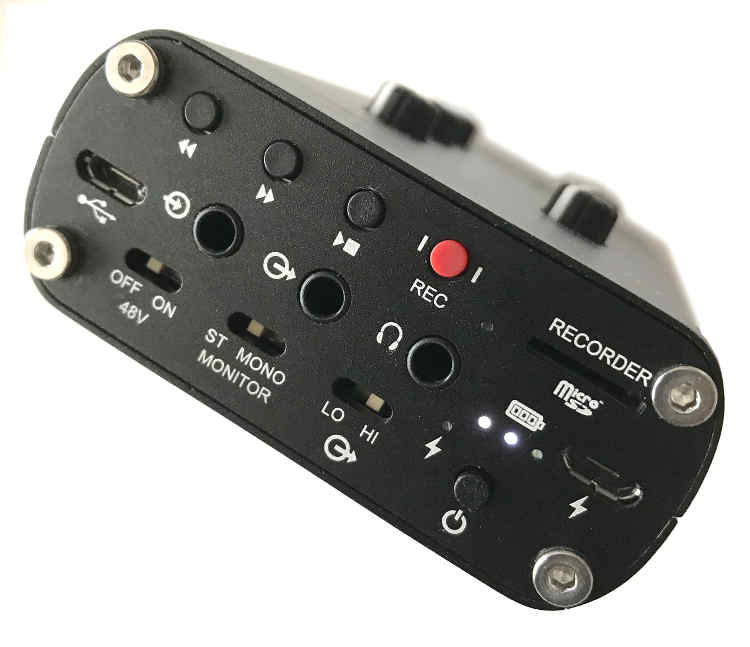 Note that all the switches are recessed, so you can't hit them accidentally. Cool…apparently someone actually used this before releasing the prototype for production 🙂 The MixerFace comes with a tool (like the ones used to open micro SD card trays in smartphones) to move the switches, although something like a paper clip end or toothpick will also work if you lose or forget the tool.
The knobs are small, but rubberized so they're easy to adjust, and recessed so they poke just far enough above the case so you can adjust them. This bodes well for long-term reliability—if you hit the knobs, I think it would be impossible to damage or break the pot shafts. The case is anodized aluminum, not plastic. The overall vibe is sturdy, professional, and can probably handle unfavorable environments better than I can.
The Pro and Premium versions add a micro SD card slot, and transport buttons (rewind, play/pause or record/stop in record mode, and fast forward). Overall, operation is straightforward. In keeping with Anderton's Law of Manuals (devices that really don't need manuals have the best ones), the two Quick Start guides (one for general controls, and one for the recorder) are pretty much all you need to get going—unless you've never seen a mixer or audio interface before.
IN USE
As you may recall, Congress passed a law several years ago that all companies are required to give their mic preamp technology a name, so CEntrance calls them Jasmine preamps. Okay…jasmine is used for perfume, Hawaiin leis, teas, and is the national flower of Pakistan (where it represents amiability and modesty). So the connotations are pleasant enough, but personally, I would have simply called them NE preamps, for "non-existent." Given the price and the professional orientation, I expected that the preamps would be good. Other than being a little shy on gain (listed specs are up to 53 dB gain, EIN of -127 dB, and THD+N of 0.004%), given the CEntrance lineage I wasn't all that surprised that the performance equals or exceeds the preamps you'll find in contemporary audio interfaces designed for studio use.
What's especially cool about the recorder (aside from being able to record stand-alone, independently of recording into your smartphone or other mobile device) is that when doing a live stream, you can record the results for later editing, archiving, and/or posting for those who missed the live event. Recording time depends on the size of the micro SD card (up to 256 GB). All files are uncompressed WAV files, so you can't extend the SD card's recording time by choosing a compressed audio file format. Then again, degraded audio quality isn't really the MixerFace's intended design goal.
As a USB interface, you can specify the bit depth (16 or 24 bits) and sample rate (the usual suspects, from 44.1 kHz to 192 kHz). When not using USB, the native rate is 24-bit/48 kHz.
One point that probably no one cares about other than me is that the MixerFace uses a bipolar analog power supply (±7V). This kind of design gives more headroom, and reduces noise by eliminating the need for a voltage divider circuit to create the artificial ground that some circuit designs require with single-ended supplies. The digital supplies are switched-mode types, which you need to multiply the supply voltage up to +48V (and yes, it really is 48 volts) for the phantom power.
And for video, note that the MixerFace can mount to a tripod. You can use the line out with a DLSR camera to record better audio, while recording to the SD card as backup just in case someone didn't set levels properly on the camera. Not that I would ever do that, of course.
CONNECTIVITY
With Android, you can always send audio out to audio in, but it makes no sense to have the MixerFace generate glorious audio that you then send through the smartphone's 29-cent A/D converter. So, you'll need an OTG ("on the go," female USB to male USB) cable to go digital-to-digital, and bypass any questionable analog circuitry. OTG cables typically cost well under $10, and some models include an additional jack so you can connect a USB charger and charge the phone simultaneously.
For iOS, you need to buy Apple's Lightning-to-USB 3 camera adapter (apparently knock-offs don't always work, so I sprung $40 for the Apple version). Note that the official adapter has a Lightning jack in addition to the female USB connector, so you can power your iThingie at the same time you're using it.
With desktop computers, there's already a USB input (if there isn't, you really need to upgrade your Atari 1040…just sayin'), so you just need an appropriate cable. MixerFace works with Core Audio on Mac; for Windows, there's an ASIO driver on the CEntrance website.
AND THE VERDICT IS…
After you add up what this does, as well as the sound quality, MixerFace doesn't look so expensive after all. Casual podcasting solutions that are comparably priced sometimes offer more bells and whistles, but MixerFace is clearly positioned as a no-nonsense, count-on-it, "I need something I can depend on" solution for people who need to do quality recording in real-world (and sometimes hostile) environments. It also hits a sweet spot of portability, ruggedness, functionality, size, and feature set. There really isn't anything else quite like it.