Adding room sound ambiance enhances the realism of amp sims
When you play guitar, you don't hear only the sound of the guitar and the amp: the room in which you're playing has a huge effect on the sound. It's a sophisticated filter, delay line, and modulation effect that adds variety to your sound. Although most reverb plug-ins, and even many amp sims, include a "room" algorithm, these frequency sound more like a variation on reverb than the short, subtle echoes that occur in a small club or rehearsal space. Whether you're recording your guitar direct or using an amp sim, building a virtual room can make the sound more realistic, which leads to a more satisfying playing experience. As a bonus, the guitar will often fit better in a mix with other instruments that were miked in a room, like drums, hand percussion, piano, and the like.
HOW TO SET UP SHORT DELAYS TO CREATE AMBIANCE
Reverb consists of multiple echoes bouncing around a room, so we'll use delay lines as the basis of our stripped-down room acoustics. You'll want at least four delays, so a multi-tapped delay is ideal—PSP's 608 Multi Delay (Fig. 1), which offers eight individual delay taps, is a great option.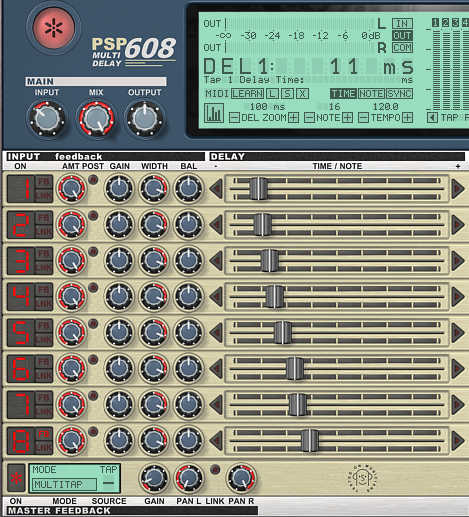 To prevent echoes from hitting at the same time, choose prime number delay times such as 11, 13, 17, 19, 23, 29, 31, and 37 ms. Longer times create a bigger virtual room, but too long a delay sounds less realistic. A little feedback creates a more complex vibe, but don't turn it up to the point where you hear the repetitions trail off.
Fig. 2 shows how the taps are set up in the Multitap6 delay module in Line 6's Helix guitar processor. The bars that are colored red are the delay times; scale is based on a master delay time of 100 ms, so a scale of 17% is 17 milliseconds, 19% is 19 milliseconds, and so on. The blue bars indicate the panning positions for the various taps. The shorter delays are panned wider, while the longer delays are more centered.

ENHANCE ROOM SOUND AMBIANCE WITH CHORUS
When you're playing guitar, you're moving around—so your ears pick up different reflections. This adds sonic animation you won't hear if you just stick a mic in front of a speaker. Insert a chorus effect after the delay, set for a very slow rate and a subtle mix (e.g., 20% wet). The effect should be subliminal, and not at all obvious, to add a taste of "animation."
ADDITIONAL EDITS
Tweak the settings for best results.
Try increasing feedback a bit. This will thicken the room sound, but be careful not to turn it up high enough to create a metallic effect.
Insert EQ after the delays to alter the room's "acoustics." For example, you can reduce the high frequencies to emulate softer surfaces, or go for a brighter sound if you want harder surfaces.
Change the relative mix of the different taps. Mixing the shorter delay levels higher will bring the guitar closer, while mixing the longer delay levels higher will make the guitar seem further away.
Panning the delays can also be effective—spread them evenly throughout the stereo spread.
And of course, when you're done, save your settings as a preset—and then you can add a room any time you want.