We'll cover the five instruments and delay effect that make up the complete collection.
I've always liked A|A|S (Applied Acoustic Systems) instruments, starting with their now-discontinued Tassman modular synthesizer back in 2000, because they've gone down the modeling road instead of the sampling one. This isn't necessarily a better/worse situation, but modeling provides a lot of latitude in terms of editing, and is kind of like the audio equivalent of CGI graphics in that it can produce "idealized" as well as realistic sounds.
Modeling synths use algorithms to create sounds on-the-fly. As a result, sample-related limitations like velocity/sample splits don't exist, and sounds can have substantial editing options—just change aspects of the algorithm. Also because no samples load into memory, presets open almost instantly; although more voices require more CPU power, with A|A|S's instruments CPU drain is very reasonable. As a side note, current A|A|S programs are strong on "MIDI Learn" for those who like real-time control.
This review covers the various instruments that make up their Modeling Collection bundle: Lounge Lizard EP-4 electric piano, Ultra Analog VA-2 virtual analog synth, Strum GS-2 electric and acoustic guitar virtual instrument/riff generator, Chromaphone 2 acoustic object synthesizer, String Studio VS-3, and Objeq Delay acoustic filter and delay. Although these instruments have been out for a while (except for the VS-3, which updated the VS-2 in late 2018), one reason why it's well worth re-visiting these instruments is because they are compatible with Native Instruments' NKS (Native Kontrol System). Over the years they've also added updates for functionality like VST3 compatibility.
STRUM GS-2
Although a "lite" version of Strum Session was bundled with Cakewalk Sonar back in the day, I never really checked it out much. After all, I play guitar, and thought Strum Session was mostly about generating riffs (although I have used it to detect MIDI Chords—a very useful, and probably under-appreciated, talent). So the first time I really put it through its paces was with the full version.
Since I double on keyboards, it's actually not so bizarre to be a guitar player playing a modeled guitar instrument. After all, for some songs I like to sample my guitar and play it from keyboards, and the modeling-based approach is refreshing compared to sample-based guitar. Strum Session isn't just about creating riffs; it's a solid virtual guitar instrument that reminds me of the late, great Creamware Six-String.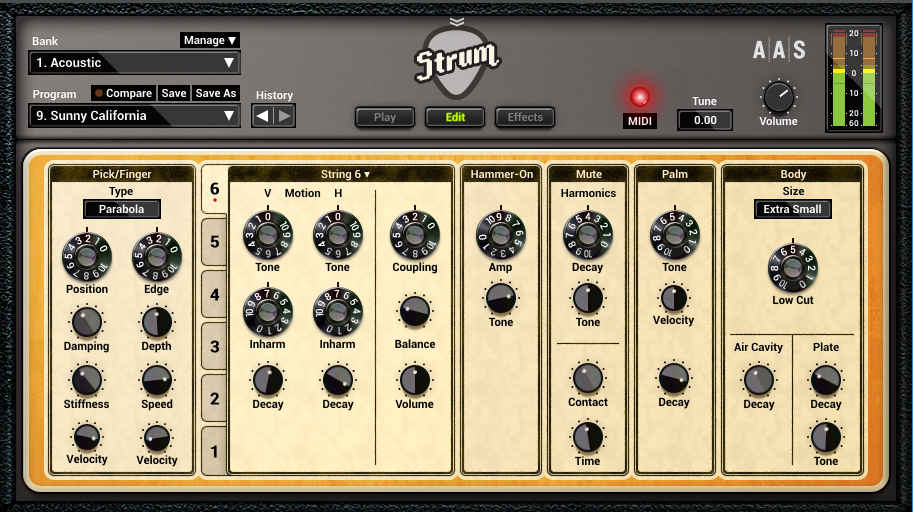 There are six guitar types, over 200 presets, and an Edit page where the sound design aspects really shine—for example, you can change pickup types for electrics, the body type of acoustics, string and pick parameters, etc. For example, I wanted to use one of the nylon string guitar sounds, but the pick attack was too prominent for my taste. It was a simple matter to dial it back for a gentler attack. Although the Edit page is pretty deep for non-tweakers, there are enough presets that you may not feel the need to venture into deep editing. And some of the Editing options are super-cool—you can even alter characteristics of each virtual string, copy to other individual strings or all strings, and interpolate characteristics among strings. Although the sound isn't quite as authentic as samples, you also don't get the disadvantages of samples. Like the other programs covered here, a demo version is available so you can try before you buy.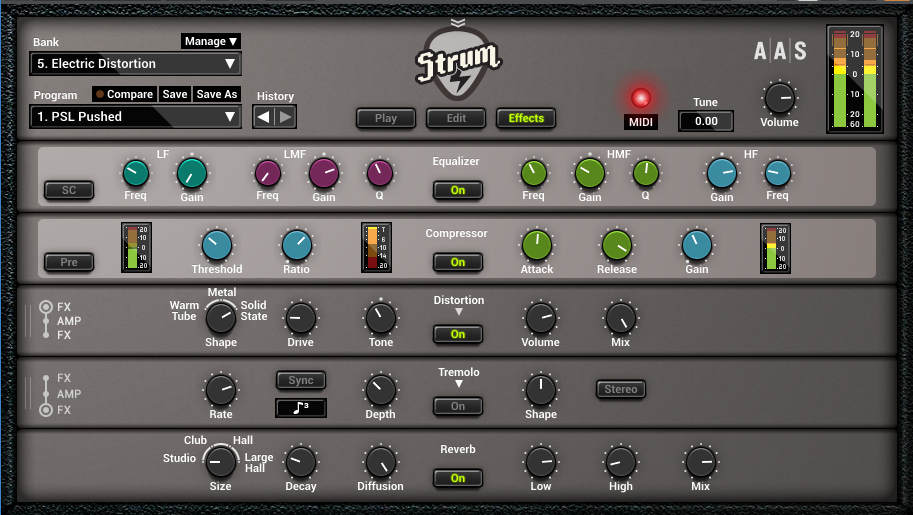 You'll also find a deep effects page. Your DAW probably has plug-ins, but having effects within the plug-in itself is convenient, the MIDI Learn options are welcome, and the effects are excellent anyway. Note that each of two effects "slots" offer one of 12 effects (Delay, Distortion, Phaser, Vintage Chorus, Chorus, Flanger, Tremolo, Auto Wah, Wah Wah, Notch, Equalizer, or Compressor) from their drop-down menus.
Of course, given that one of this instrument's strength is as a riff generator, Strum GS-2 bundles a lot of MIDI loops. But even if you're not in the riff generation aspect, Strum Strum GS-2 is an outstanding guitar-oriented virtual instrument. And even if you can play guitar, GS-2 can do things that are very difficult to do with a guitar—unless you have a woodworking shop, soldering iron, and a lot of luthier-oriented skills.
LOUNGE LIZARD EP-4
Cosmetically, the instrument is similar to Strum GS-2—Lounge Lizard EP-4 has the same basic Play, Edit, and Effects pages. The Effects page is almost identical to the Strum GS-2 effects, but the drop-down menu doesn't include the Vintage Chorus, Tremolo, Equalizer, or Compressor effects. However, there are two major differences; let's start with the Edit page.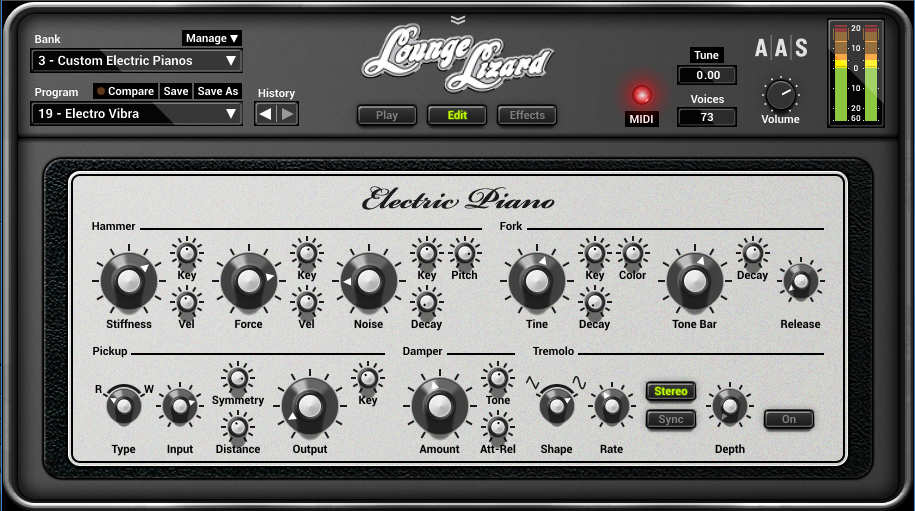 This page allows for sounds beyond the usual Rhodes and Wurlitzer electric pianos, because it exposes parameters that let you warp sounds into something completely different from the traditional (some might say "overused") electric piano sounds. Because of this level of versatility, EP-4 offers seven models total, each of which has 11 to 15 presets. They're extremely realistic.
The Pianorgan presets are probably my favorite preset collection, because they combine the attack of a piano with the sustain and processing of organs. But some of the more "out there" sounds are great, like those that sound almost like a piano/kalimba or piano/vibes morph. I do think some presets go overboard on the effects, but no problem—just click the "on" buttons for any unwanted effects to "off."
Even if you're not into electric pianos, Lounge Lizard EP-4 is sufficiently flexible to provide sounds that go beyond the stereotyped into truly innovative areas. I much prefer Lounge Lizard to sampled electric pianos because the EP-4 not only nails the electric piano sound, but expands on it.
ULTRA ANALOG VA-2
Ultra Analog VA-2 has serious ease of use, with a Play page that offers front panel control over multiple parameters, including effects.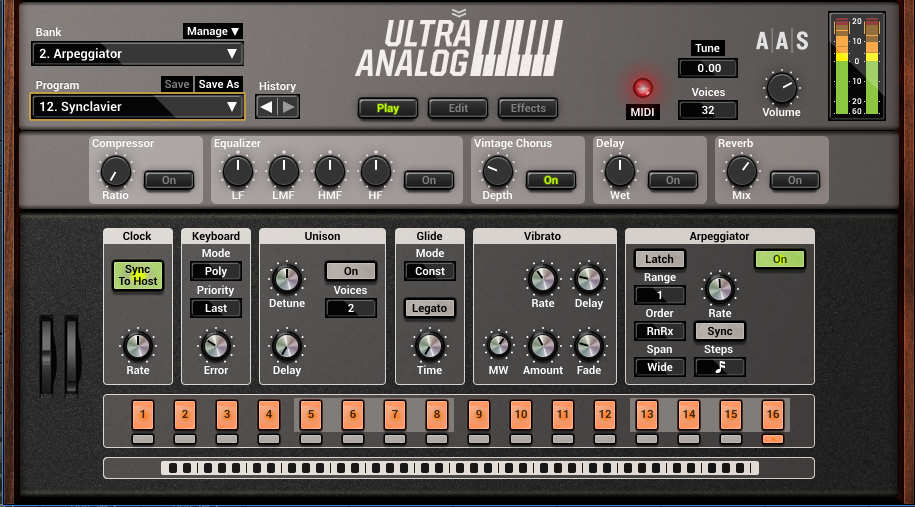 However as with other A|A|S synths, it's the Edit page that provides the most fertile ground for experimentation. It reveals a two-voice architecture, with the kind of controls you'd expect to see from the analog synths of yesteryear.
The graphical user interface layout is also quite interesting, because it's optimized for quick tweaking and MIDI Learn for controllers. The main section shows a voice's modules, but is restricted to the most crucial controls (i.e., what you'd typically use for real-time control). A "sidebar" panel to the right supplements this because it lets you choose any module in either voice, and offers both the parameters in the main section as well as some additional parameters (related principally to modulation).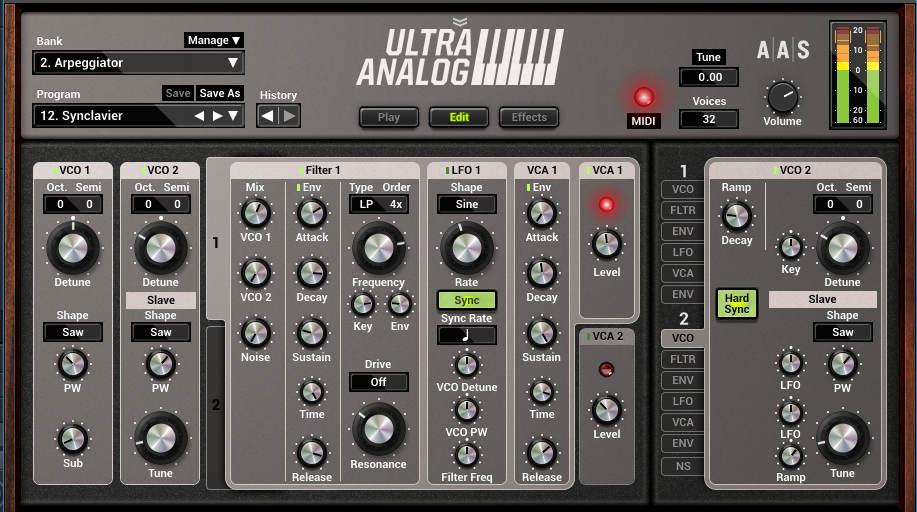 The Effects page is similar to the Effects pages for other A|A|S synths; for this one, the two effects "slots" have drop-down menus that offer nine different effects (Delay, Distortion, Phaser, Vintage Chorus, Chorus, Flanger, Auto Wah, Wah Wah, and Notch filter).
Overall, this is a synth for people who listen with their ears instead of their eyes. Although it may look functionally similar to other virtual analog synths, I really like the sound quality—no aliasing, very clean, and sweet filtering—as well as the ease of editing.
CHROMAPHONE 2
This is one of those instruments I liked within minutes of playing it for the first time. Although Chromaphone 2 is primarily about plucked and struck resonators (my favorite program banks are mallets, percussions, drum kits, chimes/bells, and plucked strings), the software is sufficiently flexible to create basses, keys, strings and pads, synths, and organs/pipes. Note that these aren't like conventional sampled sounds; the keys are mostly electric piano/clav-type sounds, the strings and pads are impressionistic, and the basses tend toward a warm, almost acoustic vibe. The synths, organs, and pipes provide alternatives to conventional sampled versions rather than providing "more of the same."
If you're familiar with the original version of Chromaphone, Chromaphone 2 addresses a couple technical limitations of the earlier version. The UI is also cleaner, using the same three-page approach as Strum GS-2 and Lounge Lizard EP-4. The Effects page is basically the same as Strum, but the two drop-down menus don't include EQ and Compression. The Play page consolidates all the most-used parameters into a…well, compact and playable environment.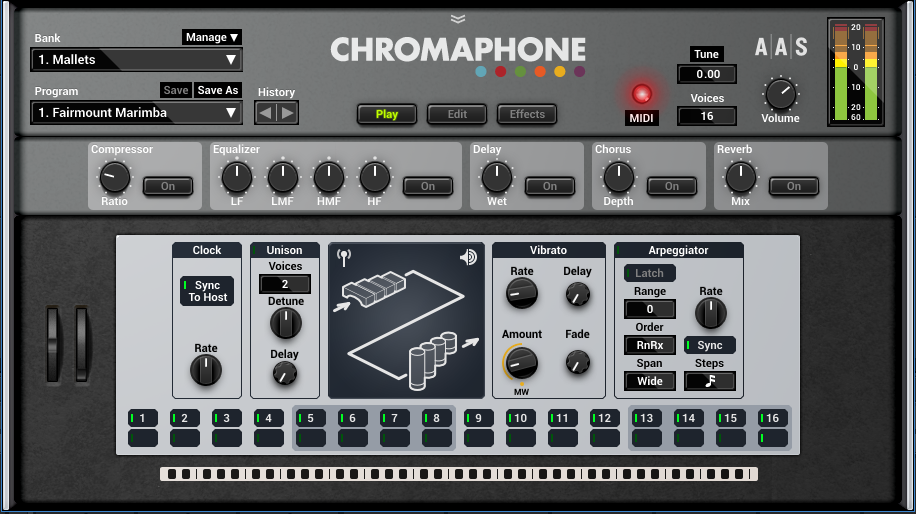 The architecture is unlike conventional synthesizers—for example, combining a mallet and noise source creates a signal that excites dual resonators (each chosen from nine types). These can either run in parallel, or in a Coupled mode that places the resonators in series but with bi-directional interaction (e.g., similar to how a piano string interacts with a sounding board, but the sounding board also influences the string). You can alter the coupling balance.
There are familiar parameters like envelopes, LFO, and arpeggiator, but you'll also find other parameters that are rarely a part of the synthesis lexicon—material, tone, density, stiffness, partial, noise, and color. The results are not necessarily intuitive, although the more you play with Chromaphone 2, the more you'll be able to predict the results—sort of like FM synthesis. So if you come up with something you like but aren't sure how you got there, save your preset. Otherwise you might not be able to return to it easily, and besides, you can always reverse-engineer it at your leisure.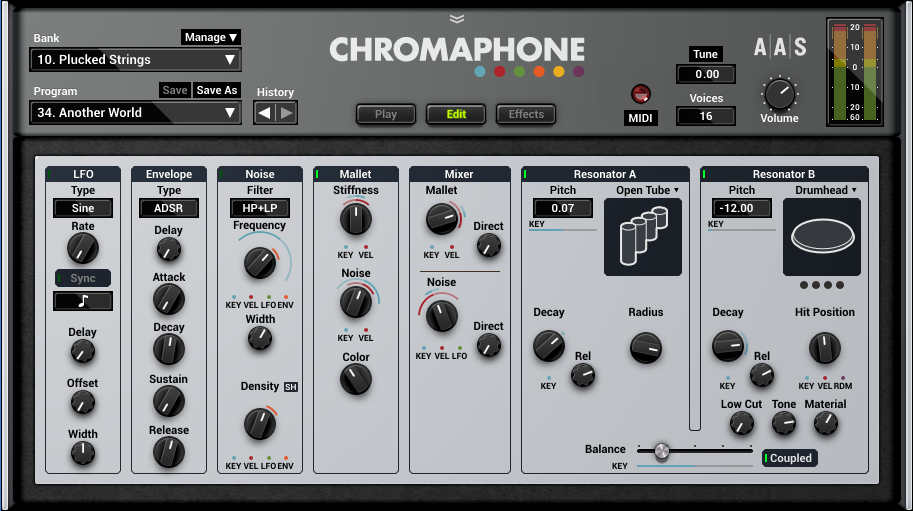 The inclusion of drum kits ("Chromakits") and individual drum sounds might seem curious—aren't there enough drum sounds in the world?—but again, Chromaphone 2 has a somewhat different take. You can stretch sounds so low they give a satisfying "kick," while higher sounds are more like percussion. The Soundscapes and Effects models also highlight Chromaphone 2's unique talents—some resemble sampled sounds, but you can push them easily into far more unusual territories.
Finally, I was very pleased to see that Chromaphone 2 overcomes a major limitation of the original by including lots of MIDI Learn options for real-time control. Granted, Chromaphone 2 isn't your standard synthesizer—but it can provide novel tones, textures, and sonic tapestries you won't find with any other instrument. If you're addicted to synthesis, you'll find a great playground for creativity.
STRING STUDIO VS-3
Although you might see "string" and think Elka or Solina string synthesizer, that's not at all what it's about. Instead, it seems more like a "greatest hits" of A|A|S synths that borrows from Strum's audio engine. There are quite a few conventional sounds (like cello, guitars, acoustic bass, electric bass, etc.), however there are also sounds that have little to do with strings, and twists like "guitar" sounds that seem more like a synth wanting to sound like a guitar. Note that these aren't samples so like other A|A|S instruments, they often have a more "impressionistic" vibe rather than a real-world one. Again, though, this is the appeal of modeling—a useful variation on "freeze-dried" samples.
VS-3 breaks with the tradition of the VS-2 and other synths because it's two-voice multitimbral, necessitating a second of pages (this time they're tabbed, and called Play, Synth—basically with the same functionality as the previous Edit page—and Effects, although there's now a Browse tab as well). Like other A|A|S synths, the Play page brings the most common controls up front but it also incorporates an arpeggiator like the one in Ultra Analog VA-2.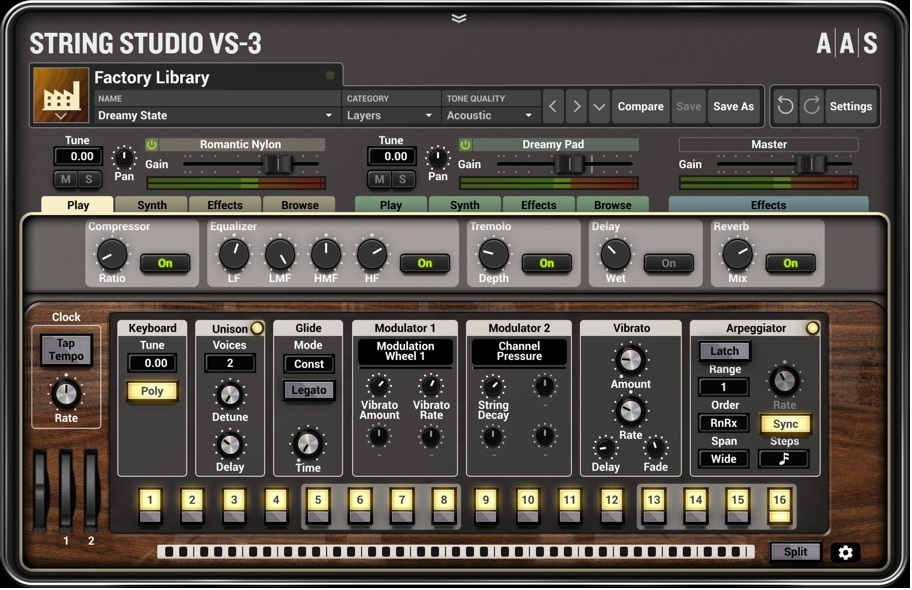 The Effects page has the same basic roster of effects as Strum, but trades off the distortion effect for delay. And of course, the Synth page (which correspond to the Edit page on other instruments) is where the action is if you want to tweak the sounds into something completely different.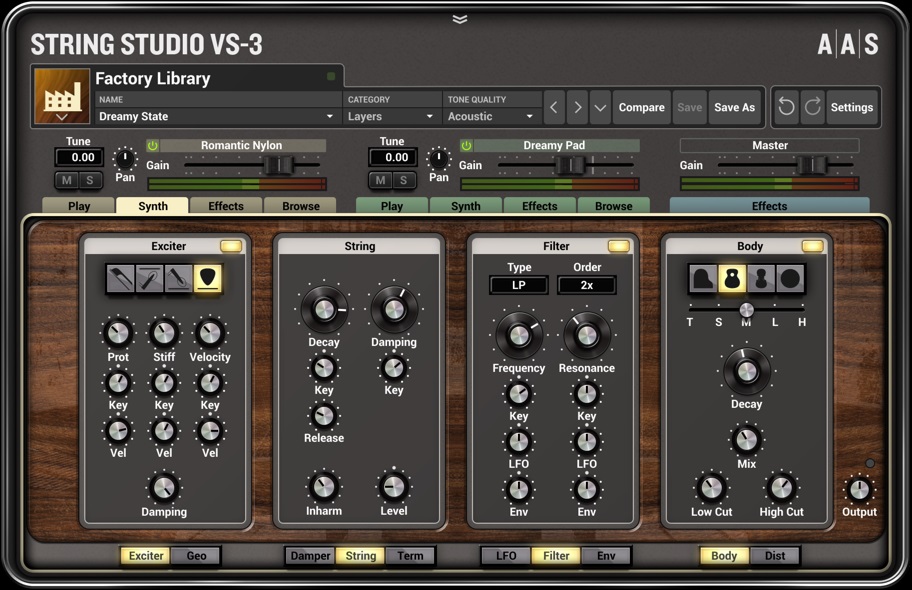 If you could have only one A|A|S instruments, this might be the most logical choice. Although it doesn't explore the depths of all its options as much as the other instruments, it strikes me as a "best of" version of A|A|S's modeling synths.
OBJEQ DELAY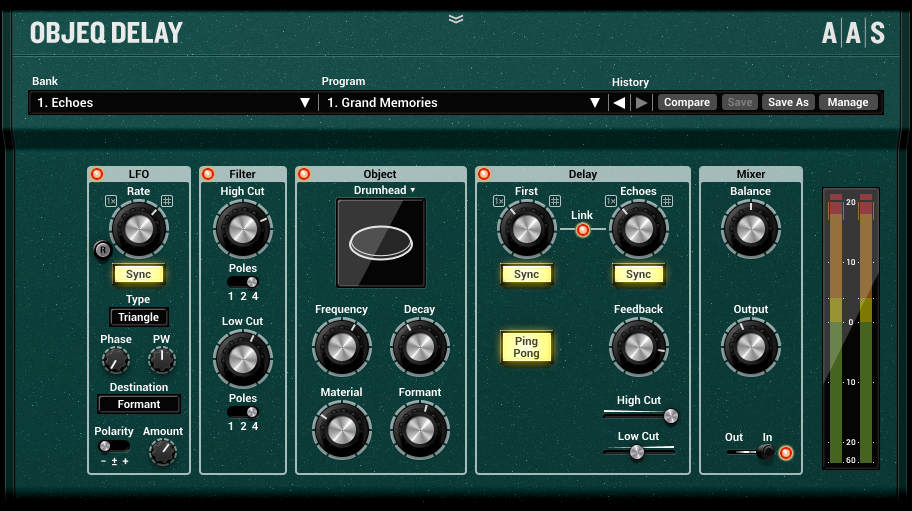 If you think you know what delay effects sound like, you might have to re-calibrate after playing with Objeq Delay. It does traditional delay, but also has modulators for modulation-related effects (vibrato, flanging, chorus, tremolo, etc.) and resonators that are particularly effective with loops and drum sounds. These can also be combined modulation. This is one of those effects that's pretty hard to describe, but there are a ton of audio examples on the A|A|S website.
AND FINALLY…
These instruments are compatible with Windows/Mac OS 32-/64-bit operating systems, as well as VST2, VST3, AU, RTAS, AAX Native, NKS, and standalone formats. Optional-at-extra-cost preset banks are available for String Studio VS-2, Chromaphone 2, Strum GS-2, and Virtual Analog VA-2.
A|A|S has blazed their own path by concentrating on modeling. While some people think modeling doesn't give as "realistic" a sound, there's more to the story. Granted, a sample by itself will sound very realistic; but once you start having to do multisamples and velocity splits, the realism degrades considerably. Also, samples are relatively static with respect to modifying their sonic characteristics. Modeling gets around all these issues, and in some respects, delivers more of an "idealized" sound.
Fortunately, there are demos so you can find what you're getting into what these creative instruments. You may not want all of them—virtual analog and electric pianos aren't exactly endangered species—but you'll sometimes find the collection of all five instruments and the Objeq delay on sale for not much more than just two of the instruments. Tempting? Yes, but again, try the demos…if you're not familiar with what A|A|S does, you'll get a taste of something different, musically useful, and eminently tweakable.