Some people refer to this as a "Swiss Army Knife" of MIDI, but that's not quite true: there's no corkscrew. But even though you can't open a bottle of wine with it, that might have been considered unnecessary, because the BomeBox helps prevent the kind of frustrations that might make you want a drink in the first place.
Think of it as a universal router, mapper, networking node, and translator for MIDI data. Basically, if you need to get MIDI from point A to point B (whatever kind of points they are), the BomeBox can do it—including making it part of a network with multiple BomeBoxes.
THE PACKAGE
The BomeBox is a rugged, lightweight, compact ABS plastic box that's basically a collection of connectors, along with two buttons (fig. 1).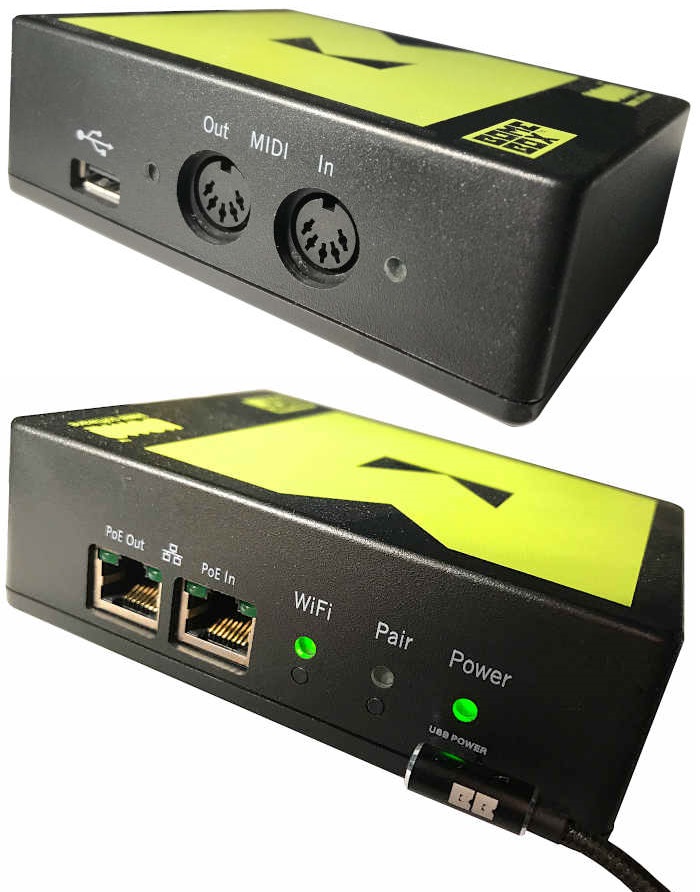 It connects to:
USB Type A host connector
5-pin DIN MIDI in and out
Dual 100 MBits/s Ethernet ports (with built-in 2-port Ethernet switch, and accepts 48V power-over-Ethernet)
Wi-Fi via internal wireless
Micro-USB power connector (older cell phone charger type, not USB-C)
Buttons for pairing and Wi-Fi on/off
Indicators for Wi-Fi, pair, and power
Note that although it certainly works with computers, it doesn't need a computer to operate. For example, if you want to do something simple like allow a modern USB keyboard controller to feed an old-school 5-pin DIN device, you don't need anything other than cables (and possibly power for the USB device).
SETTING UP
This part made my head explode at first, but I'm no networking expert so it's a tribute to Bome that I was able to get things set up at all. If you want to use BomeBox with a computer, you install the free Bome Network Tool. This connects the BomeBox to your computer through Wi-Fi. Once your computer connects to the BomeBox, it becomes like any other Wi-Fi hotspot.
It's worth watching the video tutorials, which are mercifully short. The first one is a "get to know you" about unpacking the BomeBox, after which you go to a video about configuring with a mobile device, or a video about configuring with a computer. When your computer connects to the BomeBox Wi-Fi, then you're not connected to your home Wi-Fi system for watching the YouTube videos. This is when a tablet or smartphone is helpful, so you can watch the videos while you do the required BomeBox settings. However, once you get into what the configuration menu can do, it's also possible to connect the BomeBox to an existing Wi-Fi router.
Those are the basics, but there are 16 tutorials that cover various aspects of using the BomeBox, like how to reset the password, remote control using a MIDI controller, how to update firmware, and the like. All except for one are under 6 minutes, and most are in the 1 to 3 minute range—as someone who's not a fan of interminable video manuals, this is appreciated.
The final step is configuration (fig. 2). You've probably configured routers before for your home Wi-Fi, and this is no different—use a browser like Edge, Firefox, Safari, etc., or a smartphone or tablet, to do the actual configuration.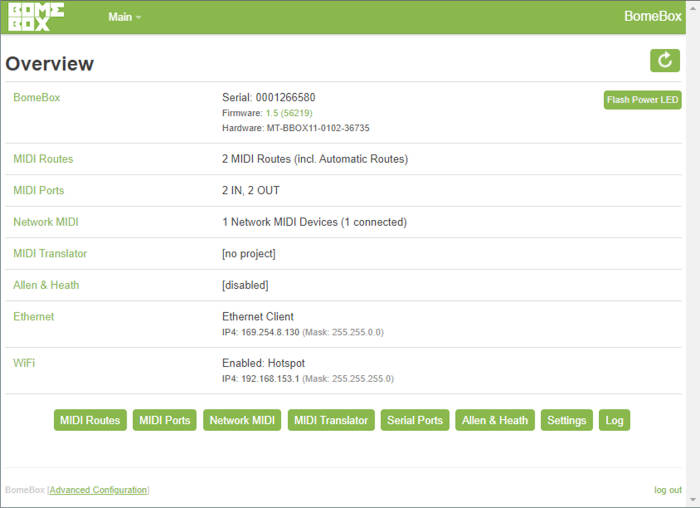 Fortunately, the setup process is truly about "setup." Once it's done, it's done until either there's a firmware or software update (Bome is good about keeping the system up to date and adding functionality), or you need to change your network configuration.
IN USE
When you first turn the BomeBox on, it takes a few seconds to "wake up." While doing so, its power light flashes. When it's lit solid, you're ready to go (fig. 3).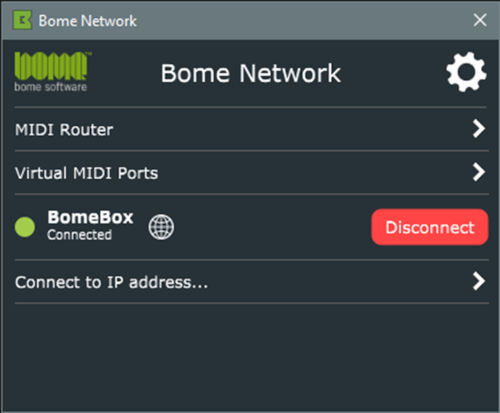 All the connections talk to all the other connections. For example, two ultra-basic applications are driving a synthesizer with 5-pin DIN from a USB controller, or the reverse. When working with the BomeBox ports, you don't need to use a computer. However, using a computer and hooking the BomeBox into the computer's network has its own advantages. There was something vaguely magical about sending MIDI data from an OB-8 wirelessly into a DAW. For example, I told Studio One the BomeBox network was an external controller—done. (Note that the BomeBox doesn't have internal Bluetooth, but if you're using something like a wireless BLE MIDI keyboard, the WIDI-Bud MIDI/Bluetooth dongle can plug into the USB port.)
Also, when connected by your computer, remember that all the connections remain active. So, you could connect both a USB device and a 5-pin DIN device at the same time to a DAW. Or, use a USB-to-DIN connector like the ESI MIDIMATE eX, to provide an additional set of DIN MIDI in and out connectors.
Speaking of USB and MIDI, the BomeBox runs off power from a standard smartphone charger. The package includes a quality cable, but no charger. It seems to work with pretty much any charger, but because it can deliver phantom power over MIDI DIN and up to 1A/5V over USB, you may need a powered hub to provide sufficient power. Also note that the BomeBox will drive a powered hub, so it can connect with up to 30 USB devices. This is particularly useful with the Translator Pro software (which I didn't evaluate; it's described later), because you can use USB QWERTY keyboards, thumb drives, and serial ports.
The BomeBox also accepts Power over Ethernet, and because there are Ethernet in and out connections, you can daisy-chain multiple BomeBoxes for both powering the boxes and transferring MIDI data.
I did not have multiple BomeBoxes for trying out complex networking setups, or long network runs with Ethernet. But hey, it's a network—I figured if I can connect one BomeBox to a network, there's no reason why connecting multiple BomeBoxes wouldn't be a similar process.
BUT WAIT…THERE'S MORE
There are four optional-at-extra-cost license keys. Bome Network Pro establishes computer-to-computer MIDI connections using Ethernet and Wi-Fi, as well as connections to Apple tablets and smartphones. The key for MacOS and Windows is EUR €29, which depending on the exchange rate, currently works out to $34. The iOS/iPadOS license has to be bought from the App Store, and costs €8.99/$8.99. Each license allows connecting up to 5 devices on a Bome network, but you can buy additional licenses to accommodate more devices, in groups of 5.
Unlimited Named MIDI Ports (EUR €29 MacOS/Windows) creates named virtual MIDI ports on the network, which can be convenient with more complex setups. The iOS/iPadOS license is €19.95/$19.95 iOS/iPadOS.
The BomeBox is also compatible with MIDI Translator Pro (€59/$67, which is a scripting tool for mapping, processing, and triggering events. For example, you could trigger MIDI commands for lighting, program changes for on-stage devices, games, and the like. This makes BomeBox even more powerful with networks, because you can trigger different kinds of MIDI events on different devices.
THE DEEP DIVE
This review only scratches the surface of what BomeBox can do, because it's a product with deep capabilities and flexibility. Those go way beyond my current needs, however, there's a reason Jason Buckley (Nine Inch Nails D3 Operator/Programmer) says, "The BomeBox is the best MIDI tool I've ever owned. It served me right on Nine Inch Nails and now I take it with me to every gig." There are also other interesting features, like MIDI being able to talk to Allen & Heath mixers (dLive, Qu, GLD, and SQ series) over Ethernet, without using a computer. Serial ports can connect to BomeBoxes with USB-to-Serial adapters…you get the idea.
To better understand what the BomeBox can do, and info about specifications, the US distributor has a landing page where you can download the manual. There's also more information, along with a helpful FAQ section, on the Bome website.
The bottom line is I know of nothing that's even remotely like this. If you need (or want) to take MIDI networking to the max, this is the droid you're looking for.
---